HydraSpecma optimized their waste handling comprehensively with a Lean approach
Staff now solely concentrate on duties that add value to the company
Because of the extensive waste handling optimization conducted by Mil-tek, Hydra Specma staff can now concentrate on value-adding tasks instead of transporting cardboard and plastic waste several times a day.
Furthermore, the optimization has resulted in a 75 % reduction in internal truck transportation!
Flaws in Lean-driven production
Hydra Specma provides a variety of components to industry and employs around 300 staff.
As is often the case with production facilities, production areas at the factory are already Lean- and 5S-driven. However, as a result of the company's growth, manufacturing was dispersed, which also led to waste management being dispersed and becoming quite inefficient. Waste was gathered by employees in many waste cages located around the premises. A full-time employee dedicated to waste handling then drove around in a truck to empty the cages, move the waste to outdoor containers and a compactor, and return the cages to their original location. Repeat, repeat, repeat, and not very Lean…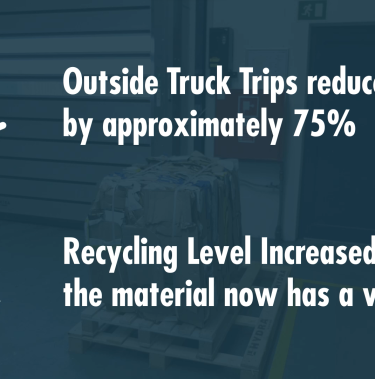 A review of optimization options
With the aim of getting a concrete overview of the challenging situation, Mil-tek performed a value stream mapping exercise.
We equipped the waste truck with a GPS, which revealed that it was doing around 50 km. per week and going out of the production buildings 30 times per day on average. Also, around 8 hours was spent every week at the large outside compactor, where the full-time employee manually loaded the waste from cages to the compactor.
Furthermore, while waiting to have the waste cages emptied, production areas could be overflowing with cardboard and plastic, creating a messy and risky working environment.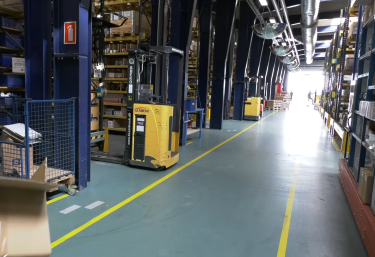 Localized waste zones and more recycling
Hydra fully acknowledged the problems, and had a very proactive approach to solving them.
They were looking for a way to establish localized waste zones rather than the typical single spot for waste pickup. They were also highly concerned with improving their environmental performance and making sure that as much waste as possible was recycled.
Since then, Mil-Tek has offered a range of solutions that meet Hydra's needs.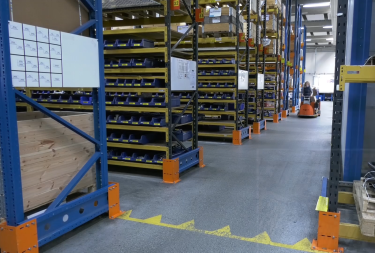 Electrical balers for heavy waste streams
In the production areas that generate heavy cardboard packaging streams, Mil-tek installed electrical balers – strong machines with high compaction pressure.
Employees in these locations simply need to continuously fill the balers and bale out once or twice each week as opposed to previously. Any employee on the crew can load and dump the Mil-tek balers because they are so simple to use.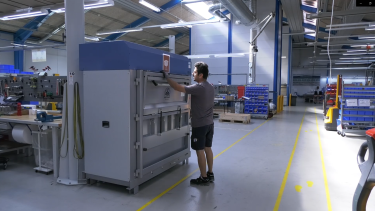 Pneumatic balers in the unpacking area
In the unpacking area, where the unpacking of products from sub-suppliers produces cardboard and plastic waste, a range of pneumatic balers has been installed. Since there was already an accessible air-line, the balers could be installed to that easily and quickly. Each unpacking station is equipped with a specific Mil-tek cardboard- and plastic baler and a bag stand for plastic waste, so that they can compact each material separately.
Instead of walking around with the waste and working in a messy environment, the packers can now stay on their station and concentrate on their specific tasks.
Overall, there has been a significant decrease in truck transport and an increase in workers' efficiency.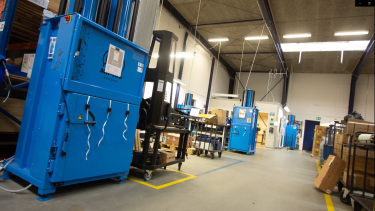 Can we help?
Get in contact with us to discover how Mil-tek can help your company handle waste more effectively and save a lot of resources.
Fill out the form and we will get back to you.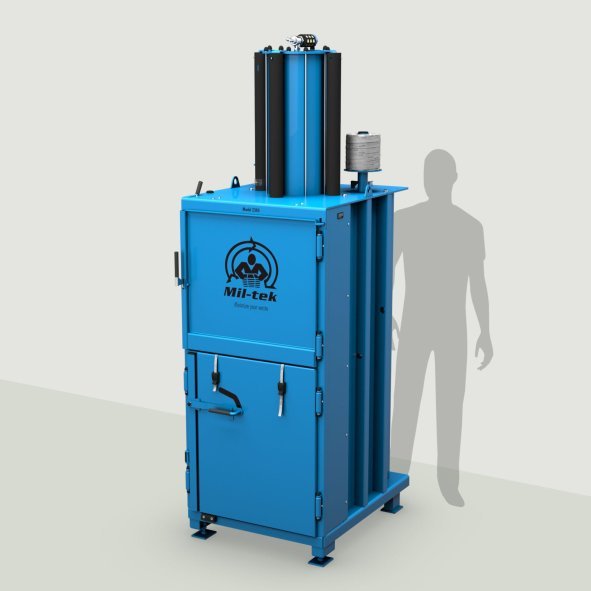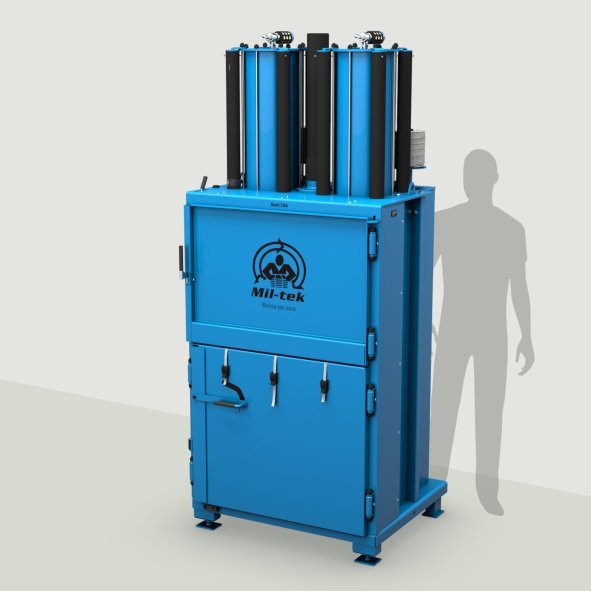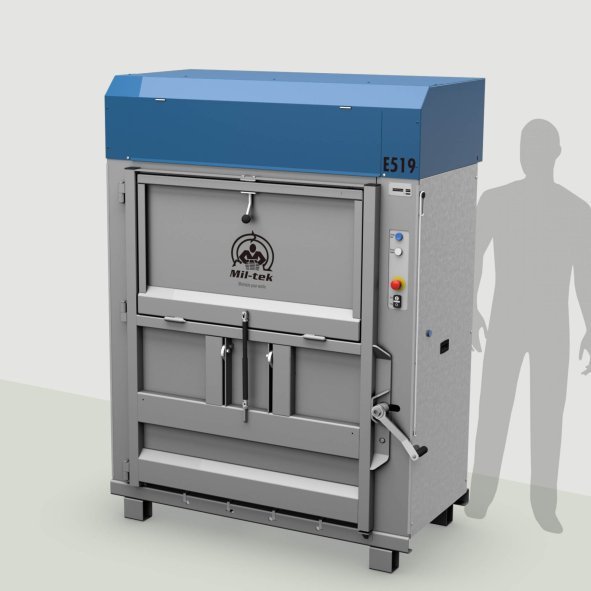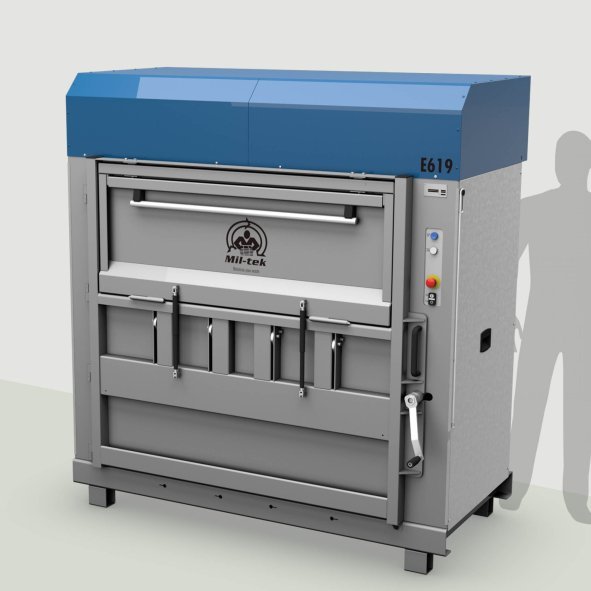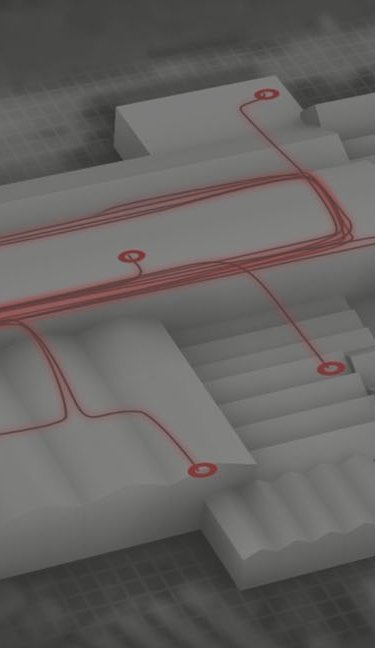 Trivium Packaging - Reduced internal transport by 60 %